Today starting the international business is not as hard as before. The Internet makes this process simple and fast. And along with this, you should take care of the users' usability from different countries, especially in which currencies you display the products' prices. WooBeWoo Currency Switcher allows your customers to switch products prices in a fast and simple way.
Why do I need currency switcher?
Shoppers always prefer to purchase using their own country's currency. So, enabling this option can increase overall sales. We developed the WooBeWoo Currency Switcher with an intuitively understandable interface and with a lot of powerful features:
Unlimited number of currencies

The exchange rate with manual or automotive updates

Customizable settings

Adjusting design

Integration with a shopping cart.
 Attention 
Enabling the currency switcher option can increase overall sales
How does it work?
Once enabled, our currency switcher will allow you and your site's users to choose the price in their national currency making the decision process much faster. You can choose the default or main currency, and an unlimited number of additional. Below there is an example of how the currency switcher works.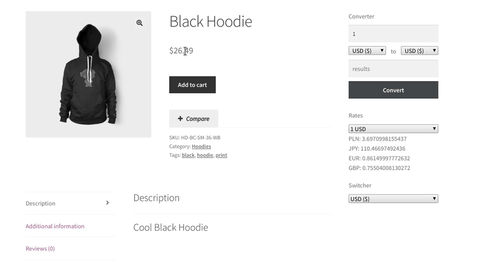 How currency switcher works
How to set up?
First up, you need to configure the currency. For this, install and activate the WooBeWoo Currency Switcher from the Plugin's directory. Then move to WooCurrency -> Settings.  Or you can access the same menu via WooCommerce ->Settings -> Currency.
How to set up currency switcher
Here you can see three tabs:
In the first tab, you need to set up your main currency. And only then choose the additional currencies from the dropdown menu. Let's dive into the available settings:
Name: choose the currency symbol

Title: currency name

Symbol

Position: select the place for the currency sign on your site

Cents: show or hide them

Rate: put it manually or press

Get Rate

button.
Also, you can drag and drop the currencies blocks to change their position.
Changing the currency's position
Then, move on to the Options tab and select the Currency Aggregator. We provide you with two sources: Free Converter and Cryptocompare. They provide you with the latest exchange rates in real-time.
Just under this option users can find Automatic exchange rates updates. Be aware that this is a PRO feature. It allows you to update the rates by a certain period: every minute, hourly, twice a day, daily, weekly or manual.
Options Tab
Design tab allows you to customize the appearance of your currency switcher. Firstly, select the switcher type and its position on the page (top, right, left, bottom):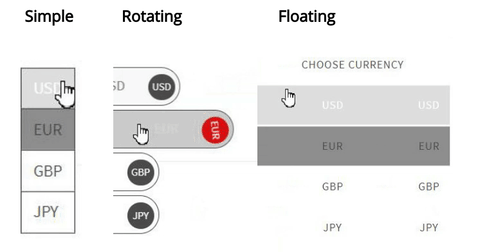 Widgets' design
Also, here you can change the color settings and display mode. Display mode allows you to select the pages where the currency switcher needs to be showed. Once you applied this, you can go to Appearance ->  Widgets.
Here you can find:
WooCommerce Currency Switcher

WooCommerce Currency Converter

WooCommerce Currency Rates.
Add a currency widget
Done! Now you can customize them and test on your site.