WordPress plugin Reward points for Woocommerce provide not only a reliable and stable technical solution for organizing a loyalty program but also visual elements on the front end, which can be configured in a few clicks and fit into the style of your site, without programming knowledge.
Balance Widget
For example, this is the balance widget, which is one of the most important things in the loyalty program interface. The owner of an online store can place the Balance Widget in any convenient place on the page using a shortcode so that the balance of reward points is always visible to the buyer.
The widget is important for the Buyer, as it not only motivates them to buy but also makes the loyalty program transparent for the user. This is a kind of personal account of the reward program, in which the user can see the balance of reward points, and their expiration date, both overall and separately for purchases and separately for each promotion. Here, the user has access to all his transactions related to spending or receiving bonus points, where he can see the reason for accrual/write-off, date, quantity, purchase number, etc. If you use the "Loyalty program levels" option, then here the user will be able to see their current level, discount, and what needs to be done in order to get to the next level.

The widget is displayed as a popup call button and has a clear no-code appearance setting. You can upload your reward points icon, change fonts, and colors, use an abbreviation, and more.
Product Badge
The reward points badge is located on the product card, and like a magnet attracts the attention of customers, which immediately makes it clear to customers that this store is loyal to its users. "Oh, for this product I can get a bonus, which means that the next purchase will bring me a big profit," this is what most users think when they see a store with reward points, which allows you to be one step ahead of the competition.
The WooBeWoo team took the Product Badge solution very seriously. Thus, you can display the Badge both in the product catalog and on the single product page. At the same time, you can upload your reward points icon, hide the badge, change fonts, and colors, use an abbreviation, and much more.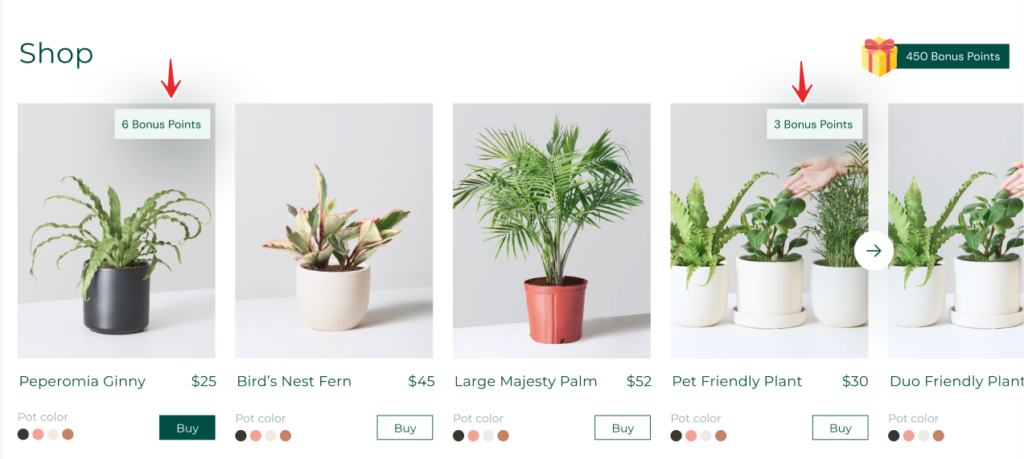 Check out these documentation articles to learn more about customizing the Product Badge and Balance Widget.