Using WooCommerce Product Table you have all the necessary options in one plugin.
You can create responsive product tables of the selected items automatically without any special skills.
All the settings you can find in the Appearance Tab. 
Here you can set the fixed table width in PX or %.
Select the thumbnail size to display in the interface.
Manage width to hide columns on the mobile screens and set which columns should be hidden on the Content tab in the column options and set the width of the column.
Choose a Responsive Mode for a table. WooCommerce Tables are fully responsive and provide 4 different modes of Responsive design according to your needs: standard, automatic column hiding, horizontal scroll,  and disabled responsivity.
Also here the next options available:
Borders
Row Striping
Highlighting by mouse-hover
Highlight Sorted Column
Table loader icon and color.
Custom table styling
Choose your custom table styles below. Any settings you leave blank will default to your theme styles.
Here you can set ant table element:
Borders external
Borders header
Borders rows
Borders columns
Header background
Header Font
Cell background
Cell font
Search Bar Colors
Fixed Layout
Vertical alignment
Horizontal alignment
Pagination Position
Buy Button Styling
Choose your custom styles for button Add to cart. Any settings you leave blank will default.
In these settings you can fully customize the Buy Button design:
Button type – text or icon.
Button size
Borders
Button shadow
Padding
Background type

none
unicolored
bicolored
simple gradient
pyramid gradient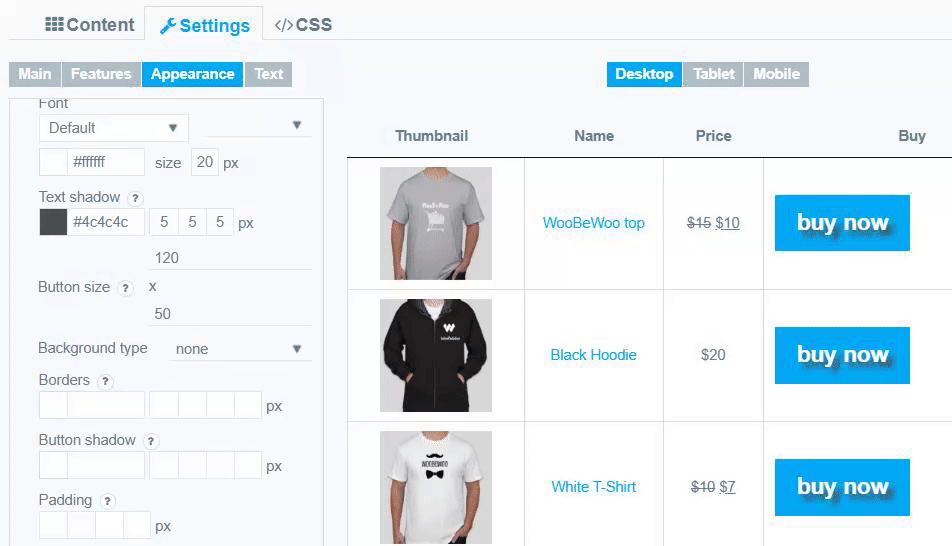 Full tutorial on how to customize and set the Product Table you can find in the Main Settings tutorial.
Also, you can look at the examples of tables, which have been built using the WooCommerce Product Table by Woobewoo.