To customize the Buy button Styling, please move to the Settings > Appearance.
Choose your custom styles for button Add to cart. Any settings you leave blank will default.
Button type – text or icon.
If you select the "text" -you can overwrite the default button name, choose font and font size and color, text-shadow (order: color, X, Y, blur)
Or select the icon for the Buy button. The same settings are available for an icon – icon size, color, text-shadow.
Button size – set width and height values in pixels (in that order).

Background type – select the type of button you prefer from the list:
none
unicolored
bicolored
simple gradient
pyramid gradient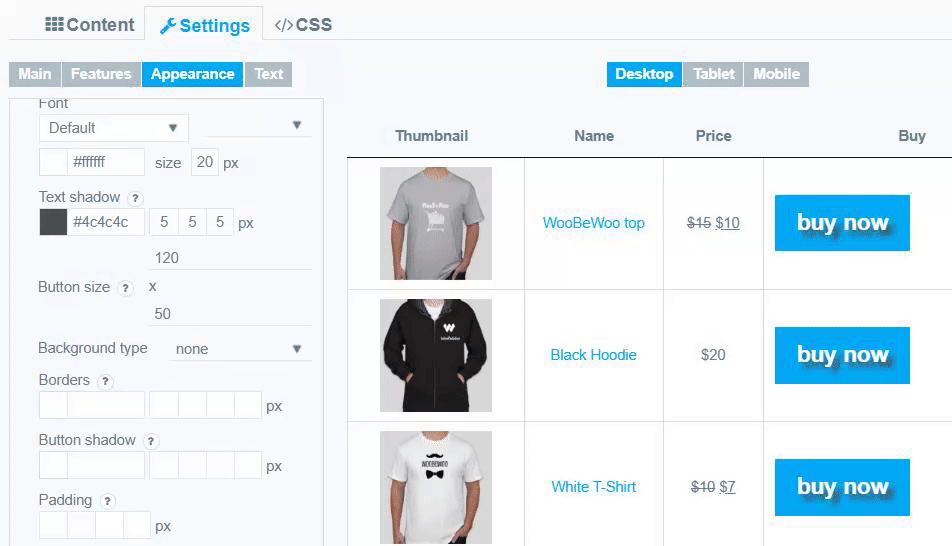 Borders – set button Borders in this order: color, top, right, bottom, left.
Button shadow – set button shadow in this order: color, X, Y, blur, spread.
Padding – set the padding for button content in this order: top, right, bottom, left.
It is possible to place (or duplicate it) under the thumbnail.
To do this, activate the Add cart button checkbox in the Thumbnail column settings.
Still, have questions? Read our detailed documentation or Contact us and we will be happy to help you.