All information about a product, that you can give to the customers to let them pick and make decision, is a key to sell more goods in your store.
For this purpose you need to find the way to display the attributes and categories for each product.
Using WooCommerce Product Table plugin by Woobewoo, you can create an attractive, well-organized table that represent all products and offers in the best way.
Attributes and Categories are information about the product properties, f.e. size, color, gender, etc. Add them to each product and provide an extra data to let customers search for items by category and attributes.
How to display attribute and category filter on WooCommerce shop with Product Table Plugin
Each product you're planning to sell should be listed as a WooCommerce product.
Set the product attributes in Products – Attributes section:
Add the information to Add new attribute. Set a name (f.e. color), a slug and press the Add attribute button. New attribute will be added to the list.
Now, if you open a product, move down to the Product data section, click on the Attributes tab, and select new attribute from the drop-down list: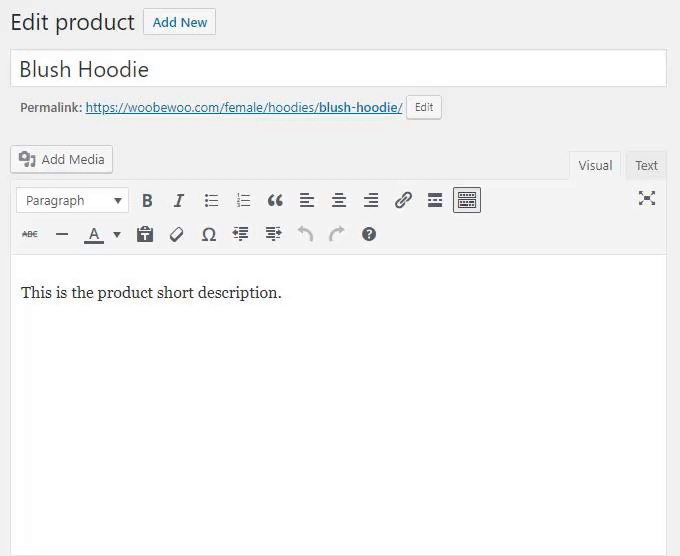 You can include one or more options per attribute. Then Save attributes and update each product you modify in this way.
3. Set the product Categories in Products – Attributes section:
Make the similar settings and add the information to Add new category. Set a name (f.e. Hoodies), a slug, select parent category and fill description (optional) and press the Add new category button. New category will be added to the list.
Open a product, move to the left, Product Categories section, and add new category/select Parent category:
4. Now if you want customers to be able to find products with attributes and category, add dropdown menus above the table. You can do this enabling Attribute and Category Filter check-boxes on the Product table settings page in the Feature Tab:
Enable attribute filter and select the attribute that will be sorted: Size, Color or any custom attribute. Category filter works for all categories which were been added to the products, e.g. gender, type of product, clearance etc. Filters work only with enabled category and attibute columns.
With filters for your customers and full control for you, this is a must-have feature for any WooCommerce online store. After these easy settings, your customers can filter by attributes and all categories and find exactly what they're searching for!
Try it now!
Thumbnail
Name
Categories
Price
Color
Size
Blush Hoodie
Female, Hoodies

$

20
Blush
M, S, XL, XS
Red T-Shirt
Male, Summer Sale, T-Shirts, Unisex
Red
L, M, XL
White T-Shirt
Male, T-Shirts
White
M, S, XS
Gray T-Shirt
Male, Summer Sale, T-Shirts, Unisex
Gray
XL, XXL
Blue T-Shirt
Summer Sale, T-Shirts
Blue
L, M, S, XL, XS, XXL, XXXL
Gray Hoodie
Hoodies, Male
Gray
M, S, XL, XS, XXL, XXXL
Red Hoodie
Hoodies

$

20
Red
L, M, XL, XS, XXL