WooCommerce Product Table has a sorting feature, so customers can click on a column heading and sort by that column.
You can sort by any table property: Name, SKU, Date, Price and other.
The table is sorted alphabetically and numerically. Sorting works for any type of content – numbers, text, date. You can find control indicators in the top of the column, coloured indicator show which column is currently sorted and arrow point the direction of this sorting: ascending or descending.
To enable the Sorting option, move to the plugin Settings-> Features:
Auto-sorting column by default. You have an option to select the column for sorting from the list. The table will be sorted by a selected property on the frontend.
Works only with relevant columns enabled.
Auto-sorting descending. The default is the 1st column and "Ascending" order for the sorting. Enable the checkbox if you want to sort by descending.
Custom sorting. Enable the checkbox if you want to add a sort by drag-n-drop from the admin table preview to the frontend. To set the custom sorting, move to the Content tab, add the products to the table, and drop and drag them in the exact order you need: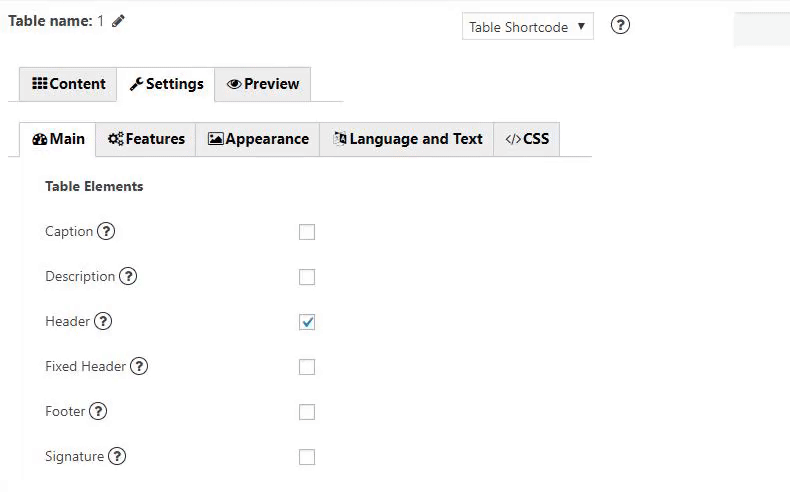 Moreover, you can set the order for the product manually. You can easily replace the item to the necessary position. It is a more convenient way if the table contains a big number of products. Also, this is the only way to move the product to the next or previous page due to pagination.
The order will be saved in the way you set it and will display in a table.
Also, you can enable a Highlight Sorted Column option in the Appearance tab to make the sorting column more visible and convenient for viewing.
Try this feature and make the product table more accessible to customers: