We're glad to welcome you to the world of WooBeWoo plugins, and create this tutorial to help you easily get started to use Product Table WooCommerce by following a couple of steps.
WooCommerce Product Table Plugin Installation
In the left panel of WordPress, click Plugins > Add New. Search for "Product Table WooCommerce by WooBeWoo" and click "Install". When the installation is completed, click "Activate Plugin". You will see a new plugin, ready to work in the admin menu.
Add WooCommerce products to the table
Plugin uses the product data already created with WooCommerce (WooCommerce > Settings > Products ). This means that you can add products to WooCommerce manually or import them using a CSV/XML import, and they will be displayed in the product table.
Create a WooCommerce Product Table
Now, let's go ahead and create our first table. Move admin panel and find a Woo Product table by Woobewoo.
Click "Add new table"
Enter the title of the table.
Click "OK".
Select the necessary items and add them to Manage Table Content. Where is an option to remove selected products or some of them. You can use Search for products to add the certain items.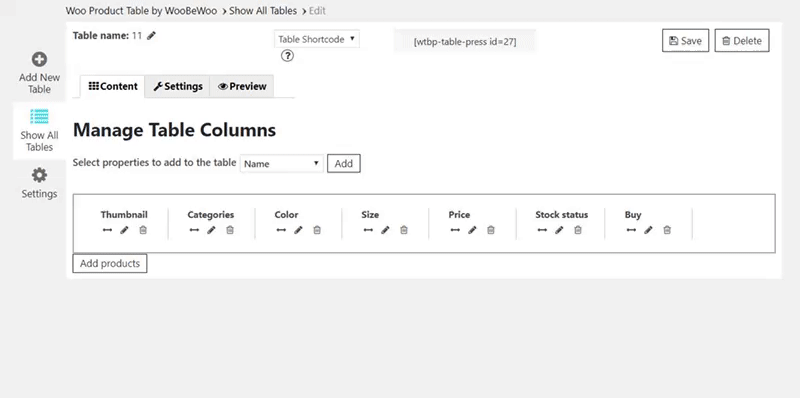 Select and add columns to the table: 
Thumbnails
Name
Featured
SKU
Categories
Attributes
Summary
Rating
Stock status
Date
Price
Buy
Short description
Sales
Downloads
You have an ability to make your custom column if you click an edit icon and change a title.
All information about the main settings and options you can find in our tutorial.
Click Save button and check the created table in preview mode.
Add WooCommerce Product Table to the site content
There are 2 different ways to add table to your site using code: table shortcode and table PHP code
Table shortcode can be found on the left navigation menu if you click "Show All Tables".  

Open the table you need and copy the shortcode.

Paste the shortcode into your post or page and Product Еable plugin by Woobewoo will automatically create a table on your page.
You can also find table shortcode and Table PHP code when you open table to change table settings. Simply choose a necessary code from the drop-down menu and copy the code.
Important! Shortcode should be inserted in a text editor page, and not in the visual.
In general PHP code can be inserted at any place of the page code. Besides, it can be inserted in the code of template of the theme – to display on all pages.
Paste it into your post or page and set coordinates of a cell you need to display, Product Table plugin will automatically display data from that cell.
Look at all the Examples of the WooCommerce Product Table.